Heinz Mathys
3 October 2016 09:00:00
Bei Tests habe ich festgestellt, dass ein Dateinanhang der mittels Instruktion "NotesRichtextItem.EmbedObject" eingefügt wurde, doppelt im Notes-Client dargestellt wird - das Verhalten ist nicht immer reproduzierbar.
Hier ein Beispiel, wie es sich dem User präsentiert: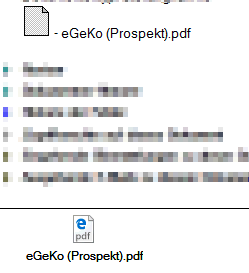 Dieses Verhalten mit der doppelten Darstellung (Stichwort: V2-Style-Attachment) ist ein immer noch bekanntes Problem, wenn z.B. das Notes-Richtext-Item nicht auf der Maske vorhanden ist. Es ist in diesem Fall gewährleistet, dass das Notes-Richtext-Item auf der Maske vorhanden ist und die Datei korrekt darin eingebettet ist.
Mittels Web-Recherchen habe ich schlussendlich den Regressions-IBM-Knowledge-Base-Eintrag "
LO90248: REGRESSION IN NOTES 901FP7: DUPLICATE ATTACHMENTS ICONS WHEN USING LS EMBEDOBJECT TO ATTACH FILES TO A NOTESRICHTEXTITEM
" gefunden, in dem das Verhalten beschrieben wird.
*** Update: mit Notes-Client 9.0.1 FP7 IF2 ist dieses Problem gelöst ***
Mit dem Notes-Client 9.0.1 FP7 tritt dieses Verhalten sporadisch in verschiedenen Situationen in bestehenden und neu erstellten Dokumenten auf. Und tatsächlich, dasselbe Dokument mit dem Notes-Client 9.0.1 FP6 betrachtet weist dieses Phänomen nicht auf.


Deshalb meine Empfehlung: Finger weg vom Notes-Client 9.0.1 FP7
Comments Disabled